WhatsApp has been the go-to messaging app for billions of people around the world for over a decade. It's simple, reliable, and secure, and it's a great way to stay in touch with friends and family.
But recently, some WhatsApp users have noticed a new feature called "Channels." Channels are a way for businesses and other organizations to broadcast messages to their followers. They're similar to Telegram channels, but they're still under development on WhatsApp.
Some people are excited about the potential of WhatsApp Channels, while others are concerned about privacy and spam. If you're one of the people who want or don't want to see Channels on your WhatsApp, then there's a way for both in the article below. So, let's start!
What Is A Whatsapp Channel?
A WhatsApp channel is a one-way broadcasting tool that allows admins to send messages to an unlimited audience. Followers can't reply directly to updates, but they can show their interest by voting on polls or adding emoji reactions.
Channels are still under development, but they have the potential to be a powerful way for businesses, organizations, and individuals to broadcast messages to their followers.
How To Remove/Turn Off Channels From Whatsapp?
Here is the step-by-step process to Turn Off Channels From WhatsApp:
Step 1: Open WhatsApp and Navigate to the 'Updates' Tab.
Step 2: Select the Channel You Want to Delete.
Step 3: Access Channel Settings: Click on the channel name located at the top of the screen.
Step 4: Locate and click the 'Delete Channel' Option.
Step 5: Confirm the Deletion
Now, your channel will be deleted!
What Happens When You Delete A Whatsapp Channel?
When you delete a WhatsApp channel, the following happens:
Your channel will no longer be accessible to anyone, including your followers. They will see a system message that your channel was deleted.
Your past updates will still be available on the phones of your followers. However, new people will no longer be able to see your channel or updates.
Your channel will no longer be visible in search results.
New people can no longer follow your channel.
Your sharing link will no longer work.
Note: Deleting a WhatsApp channel is permanent. You cannot undo it.
Read Also: How To Get Rid Of My AI In Snapchat? [Simple Way!]
Why Are Whatsapp Channel Not Showing?
If WhatsApp Channels are not showing up for you, there could be several reasons for this issue:
Geographical Availability: WhatsApp often rolls out new features like Channels gradually, starting in specific regions or countries before expanding globally. Channels are not yet available in your area. You may need to wait for it to become accessible in your region.
Outdated App: Check your app store (Google Play Store for Android, App Store for iOS) for any available updates and install them.
Device Compatibility: Some features may not be available on older devices or specific operating systems.
Server-Side Update: WhatsApp features are sometimes rolled out through server-side updates. In such cases, even if you have the latest app version, you may need to wait for WhatsApp to enable Channels on your account.
Technical Issues: Sometimes, temporary technical glitches or issues on WhatsApp's servers can affect the availability of features. In such cases, the problem is usually resolved by WhatsApp's technical team.
Business Account: WhatsApp Channels might primarily be available for business accounts or in association with WhatsApp Business. Check if you have a business account or if the feature is designed for business users.
How To Fix Whatsapp Channels Not Showing?
Here are some things you can do to fix WhatsApp channels not showing:
Update Your WhatsApp to the latest version.
Check your internet connection. Make sure you have a strong and stable internet connection.
Restart your phone. This can often fix minor software glitches.
Clear WhatsApp's cache and data. This will delete all of your temporary files and may fix the problem. To do this:

On Android: Go to Settings > Apps > WhatsApp > Storage & cache > Clear cache and Clear storage.
On iOS: Go to Settings > General > iPhone Storage > WhatsApp > Offload App. Then, reinstall WhatsApp from the App Store.
Uninstall WhatsApp And Then Reinstall It.
If you have tried all of the above and your WhatsApp channels are still not showing, you can contact WhatsApp support for further assistance.
How To Create A Whatsapp Channel?
To create a WhatsApp channel, follow these steps:
Open WhatsApp on your phone.
Go to the Updates tab.
Tap the + button at the top right corner of the screen.
Select New channel.
Tap Get started and follow the on-screen instructions.
Add a channel name.
Add a channel description and icon. (Optional)
Tap Create channel.
You'll Like: How To Get Rid Of My AI In Snapchat? [Simple Way!]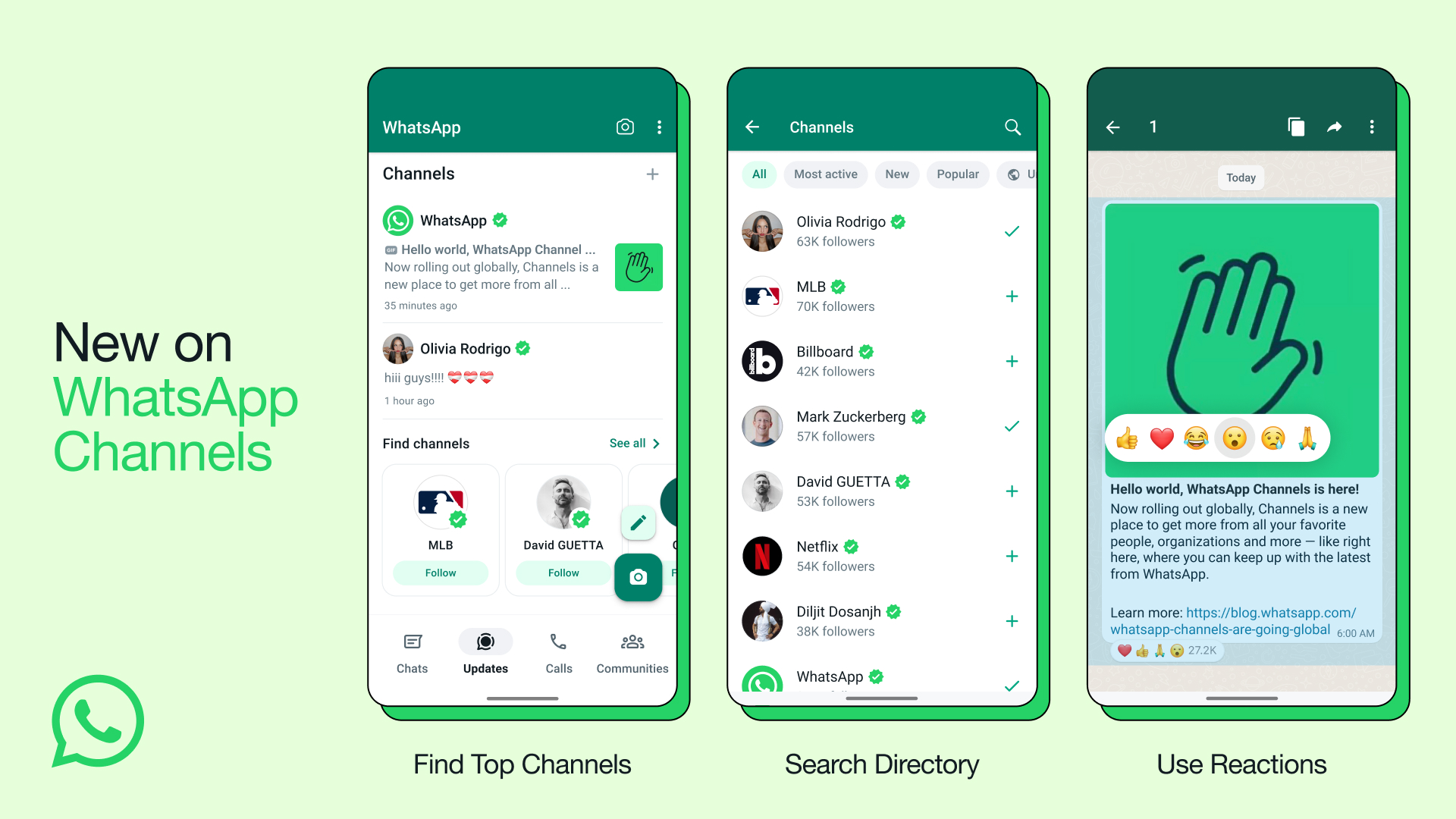 How To Use Whatsapp Channels?
To use WhatsApp channels, follow these steps:
Open WhatsApp on your phone.
Go to the Updates tab.
Browse the list of channels or search for a specific channel.
Tap on the channel you want to follow.
Tap the Follow button.
Once you are following a channel, you will start receiving updates from that channel in your Updates tab. You can also mute or unmute channels to control when you receive updates from them.
To interact with a channel's updates, you can like, comment, and react to them. You can also vote in polls and answer questions.
If you are the admin of a WhatsApp channel, you can share updates with your followers by tapping the + button in the channel chat window and selecting the type of update you want to share. You can share text, photos, videos, stickers, and polls.
To manage your channel, you can tap on the Channel info button in the top right corner of the channel chat window. From here, you can edit your channel's name, description, and icon. You can also add or remove admins and manage your followers.
Is Whatsapp 'Create Channel' Feature Only Available For Business Account?
No, the WhatsApp 'Create Channel' feature is not only available for business accounts. It is also available for personal accounts.
However, the feature is yet to be available to all users, and it is expected to be rolled out to everyone soon.
Where Are Whatsapp Channels Live?
WhatsApp channels are currently live in the following countries:
Argentina
Colombia
Germany
India
Indonesia
Mexico
Philippines
Singapore
United Kingdom
United States
WhatsApp has stated that they plan to roll out channels to more countries in the coming months.
For More information about WhatsApp Channels, go to WhatsApp's official website.