Vancouver vs Toronto: Which city is better to live in (2023)
It depends largely on your field of work. The most beautiful place on earth is pretty miserable if you can't get meaningful employment. Beyond that, I'd say, Vancouver is far prettier, has a nicer lifestyle; while it is wet and grey in the winter, it is also far warmer.
The biggest downside to Vancouver: it is more expensive, by far than Toronto (and Toronto's rather expensive).
Housing prices in both cities are quite high, but in Vancouver, it is becoming almost impossible for most of society to own a detached home.
Edit: as of April 2021, Toronto's housing prices have surged ridiculously (while Vancouver's high prices have plateaued). Toronto housing is now near or equal to Vancouver's levels, with no end to the price increases in sight.
Each city has so many great things going for them that it is hard to say which is better.
Toronto has a much wider cultural diversity representing cultures from many parts of the world. It was fun to drive through the Brazilian community many years ago after their country won some soccer cup.
Vancouver has beauty going for it – nestled in the mountains, next to many islands and near the Ocean. The weather is temperate and I have enjoyed playing soccer outside in the winter, something not possible in Toronto.
Toronto has a vibrant bookbinding community (much bigger than Vancouver) of course this is a very narrow field, but as a hobby bookbinder, I've taken courses there and enjoyed that large-for-bookbinding community.
Vancouver is very progressive socially and sustainability. There are surprisingly large numbers of companies that are for-profit and non-profit that mix social/environmental values.
Which city is better to live in Vancouver vs Toronto 2023
Vancouver is considered the "greenest" city in Canada, birthplace (for mostly good, some evil) of Greenpeace, the birth of safe injection sites, various city halls banning oil pipelines, and storage facilities in the face of (hopefully former) Federal Government pushing.
Toronto has cheaper and better flight access to the world. I'm always jealous of the prices to visit exotic places that Toronto has compared to Vancouver.
Vancouver has great access to world-class skiing. 🙂 Toronto has access to that snow right in the city!
Both are great cities! My family had to decide between these two cities back in the 90s when they decided to immigrate to Canada. Here are some points about both cities.
Vancouver
The weather is pretty steady all year round. You can definitely feel the effect of all four seasons (fall, winter, spring, and summer) but the winters are nowhere as cold as they would be if you are living in Toronto. Vancouver also gets a lot less snow than Toronto as well so you don't have to worry about driving in terrible weather or having to shovel the snow if you are living in a house.
The pace of life is more relaxed. I had a colleague who moved from Vancouver to Toronto saying that life is much more hectic and busy in Toronto. This is because in general Vancouver does not have nearly have as many businesses operating out of there as Toronto. I also know some young people who found Vancouver a bit boring because the pace of life is much slower.
It's beautiful. There are mountains, parks and you are just living off the coast of the Pacific Ocean. If you like the outdoors you can easily go somewhere close to surf in the summer or ski/snowboard in the winter. Many people say that Vancouver is the most beautiful among the large cities in Canada.
If you want to travel to Asia or Australia, Vancouver is the closest distance to those places. If you live in Toronto and want to go to Japan it takes 13 hours, however, if you want to go to Japan from Vancouver it only takes 9 hours or so.
The cost of living there is the highest among all Canadian cities. You are looking at, at least 1M+ for any type of property on the west coast.
Toronto
Busiest and most populated city in Canada. If you are in downtown Toronto during rush hour you will see hundreds and thousands of people walking on the sidewalks at any time of the year. Some even say that Toronto is a city that doesn't fully sleep. Office building lights downtown are some times still turned on at 2 or 3 in the morning.
This is the city that has the most jobs available out of all major Canadian cities right now as of 2018. So if you are looking to come to Canada to work Toronto is probably the city you would like to move to. Their area also studies that say that Toronto's salaries are the highest in the country.
The city is full of diversity. I have met people in Toronto from all different backgrounds which have been amazing!
The cost of living is still high but not as high as Vancouver. You can probably get a condo for around 500k+.
Close to major business hubs in the US, such as NYC, Boston, and Chicago. It only takes at most 1.5 hours to get there by flying.
It can get quite cold in the winter. You will definitely see a lot of snow. Most people like it when they first see snow when they move to Canada but then they get sick of it.
Vancouver vs Toronto
Which city is better? For me, because I am a working professional Toronto is my choice. However for someone like my father who is retired he prefers the relaxed lifestyle of Vancouver much better.
Weather
Toronto is Canada's largest city, and is home to approximately 6 million people, whereas Vancouver only has about 2.5 million. Toronto is busy and fast-paced – it's often thought of as a smaller, more friendly version of New York.
With approximately 3300 kilometres between them, Vancouver and Toronto experience dramatically different weather.
Toronto
Toronto is a city of extremes. In the winter it can get quite cold and snowy (around -5C), and the sharp wind tunnels created by the large buildings make it even more bitter. The snow typically disappears around April.
In the summer, Toronto is hot, hot, hot – with temperatures averaging around 27C, plus humidity. The city itself is essentially a slab of concrete which bakes in the sun, so if you like the heat this is a good place for you.
Winter in Toronto can be tougher than in Vancouver because of the big amounts of snow and the sub-zero temperature they reach during winter time, compared to the mild and rainy weather in Vancouver. … But in Vancouver we experience a really dry hot summer, whereas Toronto's summer is more humid and hot.
Because the prevailing winds are westerly and the ocean tends to be about 10 degrees Celcius throughout the year Vancouver has a far more moderate climate than Toronto.
Friends, Vancouver is warmer in the winter BUT cooler in the summer. Vancouver is NOT warmer than Toronto in the summer!
Vancouver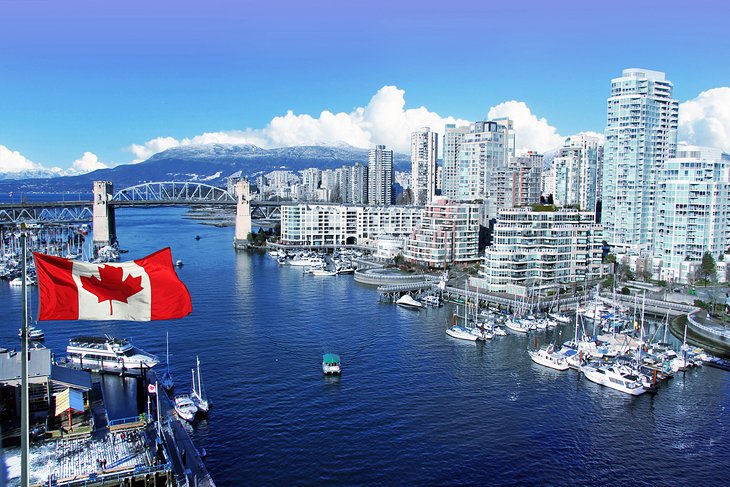 Friends, Vancouver, on the other hand, is much less extreme. The city of Vancouver itself rarely sees snow (there's typically one or two snowfalls per season) – although powder-chasers will have no problem finding it in the surrounding mountains.
Instead, Vancouver gets lots and lots of RAIN. The city is lovingly referred to as "Raincouver" by its residents, as approximately 165 days of the year are considered "rainfall days". If you live in Vancouver, you have to be okay with potentially not seeing the sun for weeks on end.
But when the sun does finally make its debut around April or May, you will not be disappointed. Due to its coastal location, the weather is warm but not too hot (around 22C), and the heat is far drier than in Toronto. Having waited through months of seemingly endless rain, Vancouverites tend to have a "waste no second of sunshine" mentality during the summer, and the city comes to life once again.
Pros of Toronto:
Toronto is a fun city with a lot of opportunities (more jobs, higher pay, and way more people). It's vibrant, diverse, and fun. Although it's cold, there is a way to get around without ever having step outside due to the subway.
There's way more restaurants, bars, cool little areas, and activities in general. If you're an extrovert and you like to keep yourself entertained, it's a great city for that. It's close to NYC, Montreal, and some of the best parts of Mexico!
Cons of Toronto:
It's either way too cold, or way too hot. There's rarely any in-between. Because of all of the activities, you end up spending a lot more money. You don't generally stay in, as there's always something going on.
Toronto is also very dirty in comparison to Vancouver. The alleys are filled with garbage. Oh, and the cab drivers are so awful (sorry but it's true)!
Pros of Vancouver:
There's great cuisine here, just not as many options as in Toronto. It's a really great place to live if you like outdoor activities like biking, hiking, and boating. We have some amazing beaches that you can enjoy all year round.
The weather is amazing. I know a lot of people say it rains a lot, but it's really not that bad. We have a lot of sunshine as well! Especially in Downtown. North Vancouver may be a different story.
Cons of Vancouver:
It's extremely small so you tend to run into familiar faces all over (which can be good and bad!). There's not much nightlife either (a few main spots and that's it).
I also find it's not as diverse as in Toronto, the people are all very similar and lead very much the same type of lifestyle. Which isn't a bad thing, it's just different. Think LA vs. NYC lifestyles.
Another negative is you cannot afford to buy a decent place for under 1 million. The housing prices here are INSANE.
So I would say overall, it really depends on the type of person you are, and at what stage in life you're in. I personally loved Toronto at the age of 18–24.
As soon as I finished university, I knew I had to get out of Toronto. I missed the greenery, the slower pace, the beautiful skyline, the cleanliness, and most of all, the ocean and the mountains!
You can go skiing for one hour and the boat next. You can go to Victoria, Sechelt, Osoyoos, Vegas, California all in under 2 hours.
It's been rated as one of the best and more beautiful cities in the world time and time again. If you can afford it, I'd vote Vancouver 100X over.
What is the best city to live in Canada? Toronto, Montreal or Vancouver?
The 'Great White North' has some of the metropolises with the best quality of life in America. The cities of the country offer magnificent job opportunities, balance between professional and personal life, attractive salaries, multiculturalism and much more. If you are thinking of emigrating, at Q'PASA we will tell you which is the best city to live in Canada, will it be Toronto, Montreal or Vancouver?
Both the city of Ontario and that of Quebec and British Columbia, have a great demand for new residents, since their attractive job and student offers have managed to conquer more than one expatriate.
Is Toronto the best city to live in Canada?
According to the world database, Numbeo, Toronto's quality of life is "very high", reaching a score of 151.72. Similarly, safety, medical care, climate and pollution indices are rated positively.
Recently, the capital of Ontario became one of the " best cities for young people in the world ", this according to the most recent ranking of the online real estate portal, Point2. Likewise, the ' Urban Job Index 2021 ' by Youthful Cities and RBC Future Launch, positioned Toronto as "one of the best metropolises for young people to work in" in Canada.
In addition, Toronto has also managed to conquer the rankings of the most powerful cities, because according to Forbes , this metropolis attracts investors from all over the world thanks to its economy, projected future prosperity, and quality of life. The city has been described as "the economic heart" of one of the richest countries on the planet.
Toronto has not only been recognized for its job offers, technology market or multiculturalism, but also for its high housing prices. Oxford Economics published that Toronto is one of the most expensive cities in North America in terms of housing affordability . Such are the prices of real estate in the capital of Ontario, which have managed to exceed the prices of the most expensive cities in the United States: Los Angeles and New York.
Overall, according to data recorded by Expatistan, Toronto is the most expensive city in Canada and is much more expensive than 75% of North American metropolises.
Is Montreal the best city to live in Canada?
Montreal has become one of the favorite cities to immigrate. Quebec City annually attracts a large number of immigrants and it is not for less. The metropolis has one of the most favorable levels of quality of life in Canada. Numbeo has rated this index "very high", even beating Toronto with a score of 156.14.
Montreal has been named as one of the least expensive cities in Canada regarding child care, as it is known that the North American country is extremely expensive in this area. If you migrate with children and want to save a little money, you should seriously consider living in this place.
Also, if you are looking for a place with a thriving job market and excellent educational opportunities, you should know that Montreal has been named one of the best cities in North America for employees and students on several occasions.
When it comes to housing prices, compared to Toronto and Vancouver, Montreal is much more affordable. According to the Professional Association of Quebec Real Estate Brokers, in 2019, the city maintained a median price for condominiums (in the metropolitan area) of C$267,900, multi-family homes had a median price of C$500,000, and single-family properties of C$340,000.
According to Expatistan, Montreal has the third lowest cost of living in Canada and is cheaper than 68% of North American cities.
If you want to live in a French-speaking city, you should know that Montreal is the second largest French-speaking metropolis in the world, after Paris. In addition, the city has become one of the favorite destinations to learn the language. So, if you really dream of starting a new life in this city of Quebec, start your immigration process!
Is Vancouver the best city to live in Canada?
The capital of British Columbia surpasses the quality of life index of Toronto and Montreal. In Numbeo they have qualified this category as "very high", since it has a score of 173.32. In turn, it maintains better scores in safety, medical care, climate and pollution indices.
It seems Vancouver has it all, from varied landscapes with mountains, beaches and buildings, to a multicultural environment. The city is among the most dense and ethnically diverse cities in Canada, and therefore has a rich culture and history.
If you want to migrate as a student, there you can find some of the best higher education centers in Canada. Also, if you want to bet on your artistic side, you can choose to enroll at the Emily Carr University of Art and Design or the Vancouver Institute of Art.
Unfortunately, like Toronto, Vancouver has been ranked as one of the most expensive cities to buy a home. According to Point2 Homes, property prices there range from C$249,000 to C$88,000,000. Likewise, Expatistan shared that this city is the second most expensive in Canada and that it is more expensive than 73% of North American metropolises.
Conclusion:
Vancouver is undoubtedly a bustling place too, but it just doesn't quite have the global city vibe that Toronto has. The nightlife, shopping and eating options are generally better than Vancouver. If you're looking to live in a Canadian New York City, Toronto is the place for you.
Vancouver is Canada's most expensive city to live, with the average cost of living approximately 10% higher than in Toronto. Safety wise, statistically Toronto is safer than Vancouver.

Vancouver is constrained by the sea on 3 sides and you can't simply make more land (easily). That's one of the main reasons why the downtown core is densely populated and land is very expensive in the area.
If you have decided to move to Vancouver from Toronto you should know that Vancouver is as great as Toronto. … By moving to Vancouver, you won't miss anything much, because these two cities are somewhat very similar by looks and by the lifestyle that people are leading there.
Vancouver vs Toronto Which city is better to live in 2023
According to Travelzoo, the route from Vancouver to Toronto, via the Trans-Canada Highway #1, is 2841 miles and takes 51 hours and 42 minutes of driving time. Add stops for meals, bathroom breaks, to stretch your legs, etc.
That is all of Vancouver vs Toronto
toronto vs vancouver reddit
toronto vs vancouver for immigrants
Guide Toronto vs vancouver cost of living
dating in toronto vs Vancouver
Toronto vs vancouver time
Toronto vs vancouver for international students
Facts Toronto vs vancouver salary
Toronto vs vancouver lifestyle
Someone's mother has four sons
Vancouver vs Toronto Which city is better to live in 2023